Kentucky Hospital Association Honors Hospitals with Annual Quality Awards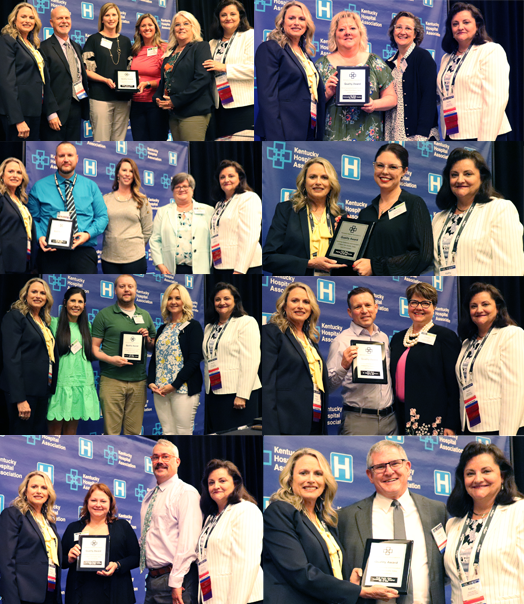 The Kentucky Hospital Association (KHA) presented its annual Quality Awards to eight hospitals from across the state at the 93rd Annual KHA Convention in Louisville on May 18. This award honors hospital leadership and innovation in quality, safety and commitment to patient care.
This year, KHA presented awards to the following hospitals:
Critical Access Hospital Category – Fleming County Hospital for the hospital's Prime Time Prevention Program
Hospitals with Fewer Than 100 BedsCategory– Rockcastle Regional Hospital for the hospital's sepsis project
Hospitals with 100-250 BedsCategory– Ephraim McDowell Health for the hospital's Postpartum Hemorrhage/Heart Failure Transitions project
There was a three-way tie for the Hospitals with 250+ Beds Category:
Baptist Health Louisville for the hospital's Sepsis Bundle Improvement project
CHI Saint Joseph Hospital for the hospital's project on the Impact of Blood Culture Device Usage on Contamination Rates in the Emergency Department
St. Elizabeth Healthcare for the hospital's Patient Caregiver Relationship project
Psychiatric Hospital Category– UofL Health - Peace Hospital for the hospital's collaboration with the Trager Transplant Center
Post-Acute Care Hospitals Category – Continuing Care Hospital for the hospital's project on Ventilator Weaning Rates in a long-term acute care hospital
These eight hospitals demonstrated not only a dedication to patient safety, but their persistence in going above and beyond what is expected for providing quality care.
The goals of these awards are to:
Raise awareness of the need for an organization-wide commitment to highly reliable, exceptional quality, patient-centered care
Reward successful efforts to develop and promote improvements in quality of care
Inspire organizations to systematically integrate and align their quality improvement efforts throughout the organization
Communicate successful programs and strategies to the hospital field
Facilitate Kentucky hospitals' alignment of quality initiatives with national initiatives
Share this post: